Law
Many people believe that sustainable food can be promoted through individual action at the checkout. While this has some merit, it relies a lot of people having the time, money andknowledge at that point. Food Labelling may help those people who do have these qualities. And it may help food procurers of major organisations. Food Standards Agency Guide to Food Law
However, other standards can help direct organisations - like schools. Following Jamie Oliver's expose of conditions of school meals, there are now Regulations for School Food, that can provide a guide for workplace canteens.
Standards
Standards can aim for more than required by law. And there is now a plethora of initiatives each dealing with particular aspects ofsustainable food. Perhaps the most comprehensive are those laid down by Sustainable Agricultural Initiative (SAI). This - developed by the food industry, spells out sustainable principles and practices.
Tesco are taking a prime role in developing Carbon Labellling methods that all others can follow.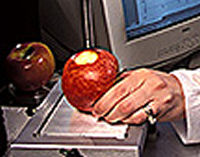 Organic
International standards now govern whether food can call itself "organic". Organic food can use only a limited range of pesticides and seeks to use natural systems to generate fertility
Integrated Pest Management is a midway house that seeks to reduce pesticide use, but has less clearly defined standards. Key debates include:
EU Sustainable Use of Pesticides Directive coming. Pesticide Action Network UK.
FOE Guide to Supermarket Policies related with pesticides.
Pi - Pesticide Information by European Crop Protection Association
Fairtrade seeks to ensure that the producers - mainly coffee, tea, bananas and cocoa, in developing countries receive a guaranteed source of income, rather than being at the mercy of moving markets.
Ethical Trade
Ethical Trade addresses "the workers" rather than the producers. There is the Ethical Trading Initiative (ETI), an alliance of companies, non-governmental organisations (NGOs), and trade union organisations working together to identify and promote ethical trade. This identifies good practice in the implementation of a code of conduct for good labour standards, including the monitoring and independent verification of the ILO Conventions... link